One of the biggest challenges I have when working with new website clients is working out with them what the colour scheme (if they don't already have a logo to draw inspiration from) and layout should look like.
Everyone knows what they like on a website when they look at one but when asked; can you honestly answer quickly the things you like from other sites without having them open in front of you?
And this is why I love mood boards when it comes to design. I know a lot of graphic designers and web designers are similar and promote to their clients to let them know elements that inspire them, they like or even dislike.
So, what are mood boards?
Similar to vision boards, mood boards are different for everyone! For me, when I'm working on a site with a client who doesn't know what colour scheme to work with – I use colour palettes based on photography to come up with concepts to display to clients.
Generally, for me, mood boards are a mix of images of photos, fonts, websites and other elements that will help inspire the design.
What do I include when coming up with a mood board?
Photos: client taken, stock photos, head shots, personal, any! Photos are one of the most inspiring elements you could give me.
For example, these palettes come from sunset and beach related images after a conversation about beach retreats. While the images themselves are from a stock website and not client taken, it still gives the right kind of inspiration.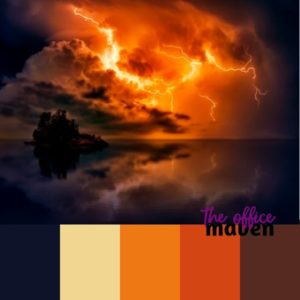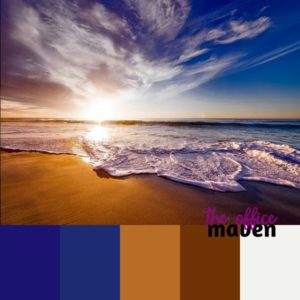 The images themselves can give a lot of ideas for the look and feel of the site, but the colours pulled from the images gives a lot more in relation to design inspiration. The bright, bold colours are not everyone's first choice, yet give a strong emphasis, and the softer, muted colours appear sweet and feminine.
Other ideas that I'll look at within a mood board are fonts that people like. Script fonts mixed with sans fonts are popular in designing, and you can see the effect in my own logo where I have Money Penny Script mixed with Amaranth. Again, it gives a bold, yet almost feminine touch.
Screen shots, font names, anything that can assist in gaining ideas for what you like. If your logo has writing on it, let me know what was used so that I can tie it all together and brand your website in a way that incorporates everything.
I also ask clients to put together a list of sites they like and what about them that they like. These can be sent across as screen shots or even just a list with the URL and a comment like, I really like the image at the top of the page, or, the layout on the About Page is amazing!
These ideas help me understand what you are picturing in your head with regards to design of your website.
Should I send my designer a mood board?
Designers love mood boards, but for me personally, I love coming up with them.
I love being sent the snippets and coming up with a feasible idea based off them. From there I can create wireframes, send ideas to graphic designers or just start building!
Where can I draw inspiration from?
If you do want to send your designer a mood board, or just need ideas… one of the best places to start is Pinterest.
I have a number of boards on my Pinterest to help with coming together with an idea; such as Colour Palettes, Fonts and Web Design Ideas. These boards are full of snippets and images that I can draw upon.
I remember a conversation with a web client where she was describing what colours she wanted on her site but wasn't 100% sure about them. I sent her a number of colour palette images and asked her to pick which one she liked the best and I was able to get a better feel for it.
One of the things I want to work towards doing more of is sharing the mood boards I create on Pinterest as well.
So, if you are new to business or looking at doing a rebrand sometime soon, it's never too early to start collecting ideas of things you like and would consider using on your site.
Like this? Pin it!