Email optins are a necessary part to business website. You've probably heard any number of marketers talking about capturing the details of your potential clients and clients. Telling you that it can be for a newsletter or for promotions… give someone a freebie to entice them to sign up. Let them feel like they are getting something worthwhile from you, while you get their details. Standard, quid pro quo.
But when you asked people which opt in to use, you get all kinds of answers. So this post is about one of the options you have to choose from.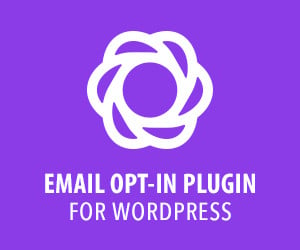 Bloom is a plugin which allows you to go beyond the options of just using the standard newsletter plugins and has been created by Elegant Themes.
Bloom is a great option if you already have an Elegant Theme account (if you use the Divi WordPress Theme, you should have an account – or your web designer will). But if you are completely new to Elegant Themes, it does cost to use. The starting price is $69USD for a year but includes support.
Disclosure: Some of the links in this post are "affiliate links." This means if you click on the link and purchase the item, I will receive an affiliate commission
Some of the features that Bloom offers are:
easy integration with 16 email marketing systems
6 different display options (inline, fly in etc.)
multiple templates to use
ability to change the colours of the display easily to match your branding
ability to target when certain types of triggers occur
elegant dashboard
ease to set up various displays on each page
A/B Split testing
ability to handle multiple systems within the same plugin
As you can see, it offers a number of great features (and I'm not even delving all that deep).
The downside to it may seem minor, but it is one that is bugging more people than just me.
inability to fully custom create form without a lot of difficulty
inability to change your mind without starting over when it comes to template
cost
To be fair, the first issue is one which if it was there, I would use but I don't care too much to try to battle my way through creating my own form. For most people, they'd probably fit in the same category as me – it'll be nice if it was simple to do, but otherwise…
The second issue though has driven me crazy on multiple occasions. When I'm trying to pick which option of template I want to use, once I've chosen a template then the only way I can change it is to start afresh. So frustrating to have to start, restart, restart just to check which one I think works best.
The third issue didn't actually affect me as I have a lifetime account with Elegant Themes, but I can understand it can be an issue for other users.
Reviews for the plugin have been very good despite those issues. And the cost isn't all that bad when looking at some of the other ones out there.
But for me, it's simple and elegant and works for what I need.